Hello there beauties. I hope you have been having a wonderful fall season and that you had an amazing Thanksgiving. I can't believe that the snow is falling in NY already and that the Christmas trees are up but alas it is winter time.
Another lovely fall season is behind us and I am here to tell you about some products that I have gotten a lot of use out of in the fall this year. I also have some products that were just downright horrible. Now keep in mind that I am in no means speaking for everyone here and that these opinons are based only on how they worked for me. So if you really love one of the products I didn't like...well, than I am glad someone is around to make it feel wanted.
Let's start off with the favorites shall we?
Kirkland Daily Facial Towlettes $11.99 at CostCo
So I can thank the lovely ladies over at Eleventh Gorgeous for this lovely find. I have been on the hunt for a while now for a decent affordable makeup wipe. Preferably one that doesn't make my eyes feel like they are burning out of my head (we'll get to that in my fails). Now though I love to try and wash my face the old fashion way...you know in the sink...truth is some days I just don't have the energy or the time to do all 100 steps of my optimal skincare routine. So on those lazy days I like to use a makeup wipe to do the brunt of the work. I bought these because with a price tag of $12 for 150 wipes I figured I couldn't lose. When I don't like a wipe it goes in to my "wipes for removing swatches on random parts of my body," drawer. These wipes are AMAZING!! They work so well to remove dirt and makeup plus they don't both my skin or eyes. I also love that they are paraben free and have chamomile and aloe to soothe my ever drying skin. You need these trust me.
Get them here with free delivery!
Elf Baked Highlighter in Moonlit Pearl $3
I'm not going to go in to too much detail since I did a full review on this a while ago which you can read
by clicking here
! All I can say is that I am sad that this got pushed to the back of a drawer and forgotten about because it is gorgeous. I dug it out in the beginning of the month and used it almost everyday. It is hands down the best $3 highlight I have ever found. I am a huge fan of all 3 colors but I just have been gearing towards this one the most this month.
NYX Butter Lip Balm in Brownie $4
Sometimes in the winter my lips are just too dry and flaky for regular lipstick so I tend to gear more towards a tinted balm or gloss. Recently I picked up a couple of the NYX Butter Lip Balms while at Ulta. I am already a huge fan of the Butter Glosses so I figured these would be nice for the upcoming months. I really really like them. They are comfortable, hydrating, and give just enough color to give the lips a little life. Brownie has been my favorite and is that "Kylie Lip Jenner," type color.
Elf High Definition Powder $6
I love this powder. I wish we had become friends earlier because I would have saved A LOT of money. I have it in the sheer formula which is translucent. It is so finely milled and it just so soft and smooth. I use this almost everyday to set my foundation and it just gives such a flawless finish. I don't look cakey and gross like a lot of powders make me feel. I own the Make Up Forever HD Powder and I can honestly say that this is almost an exact dupe but at a way better price point. Plus this jar will last me FOREVER since a little goes a long way.
I also would like to list the powder puff as a favorite as well. I have very red cheeks all the time and I hate when I put on a full face of foundation and then use a fluffy brush to set with powder and all of a sudden my red cheeks are back. I saw a video on Wayne Goss's channel a while ago that changed my life.
Watch it here
and you'll see why! This puff works great for this trick!!
Beauty Blender $20
I was fighting this purchase for soooo long and now I could fight myself for not getting it sooner. I completely thought this product was a gimmick. I figured it was just one of those things that people were making a fuss out of that really wasn't worth it. I mean in my mind I was thinking it was just a glorified $20 sponge. I mean it is exactly that but it is soooo much more. This makes foundation application so beautiful and natural but I love it mostly for how seamless and easy it makes your concealer apply. Shame on me for waiting...shame shame.
Dr.Lipp Original Nipple Balm For Lips $15
You need this!! Just believe me. This is an amazing lip balm. I received this in a Birchbox and I loved it. It made my lips feels so soft and supple and really helped how my lipstick looked. It is a bit sticky but it is so effective. It helps to heal and protect the lips. Worth every penny.
Clinique Take The Day Off For Lids, Lashes, & Lips $18
This is my new go to eye makeup remover. It is a little bit more than I typically like spending on a product like this but it just works so well. It literally just melts off every type of makeup. Eyeliner, waterproof mascara, lip stains...you name it and it will remove it. I also love that it is gentle and doesn't irritate my eyes. Honestly, I can see this lasting me quite a long time so I don't think the $18 cost is all that bad.
Clinique All About Eyes Rich $30
I really should have listened to the magazines growing up when they said to start using an eye cream as early as 15 because I am seeing such a difference since I started using one. Not only do my eyes look less tired but they are much more hydrated and I can see a decrease in fine lines under my eyes. My concealer looks way better these days. I love the rich creamy feel of this eye cream especially since my eyes tend to be dry this time of year. I put this on at night and it makes my eye area feel so soft and smooth in the morning.
H20 Plus Hydrating Treatment $36
You guys this moisturizer is like nothing I have ever used before. When I got this in my Ipsy bag a while back I was not excited about it at all but from the first time I used it I knew it was love. It has the coolest (literally) texture. It feels like you are splashing your face with water when you apply this. It is so soothing and cooling. I like to use this as my morning moisturizer because it absorbs really quickly due to the gel formula. It also doesn't make your face feel heavy after you put your makeup and stuff on. I can't wait to get my full size jar in the mail. This would work well for those with oily or dry skin.
Fails!!!
Now for the products I didn't like this month.....
Be A Bombshell Lash Out Mascara
Oyyy where to begin with this one. I received this a couple months ago in an Ipsy bag and tucked it away in my makeup drawer. I finally pulled it out this month to test it out. The first thing I noticed right away was the smell. It is such a strong chemical smell that I could immediently smell it when I opened the tube. It smells like burnt tires and pool floaties. It is awful. Now who would want to put something by there eye that smells like that? Secondly this mascara was so dry I couldn't even get a good coat if I wanted to. This mascara was just a big ol fail for me.
Physicians Formula Sexy Booster Oh La La Liquid Liner
This was another product that I bought and forgot about for like a month. I got this in the Sexy Booster Eye Trio Set. This is yet another product that just didn't do anything for me. It is incredibly watery. Even after following the instructions to shake it and then blot it on a tissue 3 times it still comes out like light gray water. It bleeds so much that when I try to use it it gets all over my fingers like a pen that has exploded. Not only that but as you can imagine it's watery consistency makes it very poorly pigmented.
Almay Oil-Free Makeup Remover Towelettes $6.49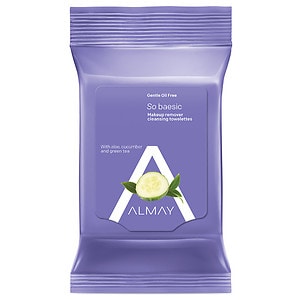 Remember when I said I was glad that I found a makeup removing towelette that didn't bother my eyes? That's because these made my eyes feel like hot lava. They burned my eyes so bad which surprised me since I usually associate Almay with being very gentle on the skin. Even when I didn't use them to remove eye makeup and only used them for lipstick or my face it still affected my eyes.