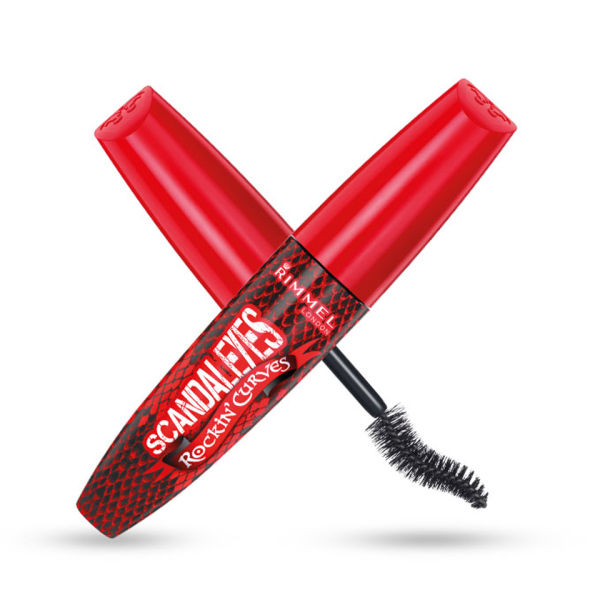 Hey there my pretties! Welcome back for another drugstore mascara review. This one is a mascara that I found recently at my local Ulta. It was a mascara I hadn't seen or even really heard about before and it really peaked my interests. It has one crazy looking wand and reminded me of a possible dupe for a way more expensive mascara. I am talking about the Rimmel Scandaleyes Rockin' Curves mascara! I am a big fan of Rimmel mascaras and have had great luck with them over the years so I instantly got a little excited about this. This is how it is described on the Rimmel site...
Our first broken heart-shaped brush creates a fringe of big, curvy, rockin' lashes. This cleverly-shaped applicator twists and curves to hug the lash line; the thin tip grabs hard-to-reach inner lashes, while the amplified base pulses lashes with incredible volume and curve. Lashes are plumped and lifted in one clean stroke.
No clumps!
So is this as good as my beloved Scandaleyes Retroglam Mascara...let's see...
Packaging:
In typically Rimmel Scandaleyes fashion the packaging is kind of big and bulky. That is one of my gripes about this is that if you were talking it on the go in a makeup bag or something it is kind of big and would take up some room. I do however love the sassy red look that it has. It is definitely an eye catching packaging. It caught my eye anyway.
So what is really neat about this packaging is the wand itself. It is an s type shape that is very neat looking for me.I was very excited because the brush reminds me a lot of the Lancome Hypnose Drama mascara which is much more expensive. Not only is it shaped like an S but it varies in thickness throughout the brush as well. Okay here is where the first problem for me lies. So this brush is very cool to look at but in my opinion is very hard to work with. They say your supposed to be able to twist and turn this around to hug the lashline and all that but I am sorry I don't want to have to twist and turn and wiggle all around to get my mascara to work. Due to the shape it's very hard to get all the lashes or a majority of them in one swipe. You end up getting mascara on part of the lashes and not the other. It makes it hard to get the lashes to look uniform. Now I probably spend more time on my makeup than most but I am still a simple girl at heart. I want my mascara to do the work for me. I don't want to spend 15 minutes trying to get my lashes to look decent.
Formula:
Jeez I really wanted to love this mascara. I really really did but it lacked for me in this department too. As you can see from the pictures it just clumped like crazy. I could not get it to separate my lashes for the life of me. Have you seen those spider lashes meme's from a *cough cough* popular mascara?? That is how I felt I looked. A great look for Halloween but not for everyday wear. I had to go back in with a dry mascara wand a couple times to try and get some separation! Nope I am not about that life. Too much work and it still looked pretty clumpy.
Do you see the transfer on my super huge up close eyeball? Ha...well I do and can you see the clumpiness! Nope...not about it!!


Wear Time:
This was actually the one thing that I can't harp about. It did wear very well throughout the day for me. I didn't have an transfer, smudging, or flaking at all. That isn't enough to make me love this though.
Final Verdict:
Pass on this. I tried to work with it and tried to really give it a fighting chance but when you use a product and everyday find yourself saying "ugh I hate this mascara," than it is not meant to be. Now like always I am not saying that everyone will dislike it or feel like I do but this is my honest opinion based on my trials and errors.