I know this is a couple days late but my computer decided it no longer wanted to work so it took a couple days to get it back up and running! I won't lie I am sad to see summer go. If there are any NY folks reading this than you know we kind of got jipped when it came to summer. It was more of a monsoon season here and just rained and rained! Though I am sad to see summer fade I have to admit that I love fall. I like wearing sweaters and sipping pumpkin lattes. I like seeing the leaves change and going to the apple orchard near my house! I also love the change in beauty routine...let's see what I love about the last leg of summer!
Love Em.....
1)Revlon Colorstay Whipped Foundation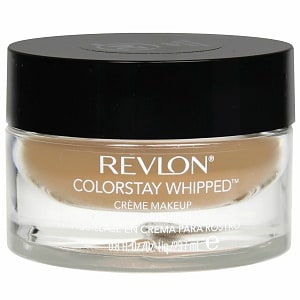 I really have been back into loving my Revlon Colorstay Whipped Foundation. During most of the summer I wore BB Creams because they were lighter and offered some sun protection but during the last couple weeks of summer my skin went crazy! It was a blemishy mess and I knew just the foundation to tackle this problem. I really like this foundation! It is a full coverage foundation so if that isn't your style then you probably won't enjoy it like I do. I like that even though it is full coverage it doesn't feel heavy or look cakey and it wears all day!
2) Milani Baked Powder Blush in Red Vino
I have been loving this blush as a transition into the next season. It is gorgeous. It gives me that nice natural flush while adding a little bit of sheen. It has little gold ripples throughout it which worked well with my summer tan. Now I don't see myself wearing this much in the colder months. It is much harder to pull off shiny blushes in the winter.
3)Wet N Wild Coverall Pressed Powder
I did a full review on this product months ago which you can read
by clicking here
! I still love it for all the reasons I did before. It cancels out redness and helps get rid of oily/shiny patches on my face. It is also very affordable. I always use a powder either to set my concealer or foundation.
4)Covergirl Clump Crusher Mascara
Ever since I picked up this mascara I knew that all my other mascaras were going to feel neglected. I love this little guy so much. I use it on myself and on my clients because it is just a wonderful mascara. It really does keep the clumping down while adding volume and some length. It is a little lash miracle. I did a full review on it which you can see by
clicking here
5)NYX Be Fierce Palette
I posted a review on this earlier in the week but I must admit that it has gotten a lot of love from me lately. It is just so easy to create looks out of this. I don't have to worry about opening a bunch of different products or trying to figure out colors that will work together.


6)Jordana Fabuliner
This little gem is only $3 and what a find it was! I have not had the best of luck when it comes to marker style liquid liners. Almost every one I have ever owned has dried out after only being used a couple times. Either that or they get all watery and streaky. This one does not do either of those things. I have owned this eyeliner for I would say 8 months now and it still works just as well as the day I bought it. It has not dried out a bit and still works wonderfully. Now it is not the darkest black I have ever seen but it is great for an everyday type of look. I also like that it lasts forever! No touch ups are necessary with this.
7)Vaseline Spray and Go Moisturizer in Total Moisture
Now when I first saw this in the stores I was skeptical. In the back of my mind I just kept thinking of those greasy spray on sunscreens. I didn't think that this would work very well so I wrote it off. Well what a silly choice that was. After seeing people rave about it all over blogs and Youtube I thought I would give it a go. Bam....awesomeness!! It is pretty great I must say. It is not at all greasy like I had imagined and drys really well. You don't even have to rub it in if you don't want to. Though I think I do out of habit. The smell is nice as well. I will say that the $8 price tag is a bit steep especially since I have only used mine a handful of times and I feel like it is almost empty. What you are paying for is the sheer ease. This stuff is a breeze to apply and it does really work. My skin feels smooth and supple after using it.
8) Miss Jessies Original Jelly Soft Curls
My head is a curly curly mess most days. My boyfriend literally called me Mufassa some mornings!! I have gone through my fair share of curl products. Ones that enhance, hold, tighten, defrizz, deslick, and on and on and on...I could go on like Bumba on Forest Gump when it comes to the products I have used. There are some real gems out there don't get me wrong and not all my attempts at finding that golden product were a bust but this product has topped them all. One of the things I hate most about curling products is that most of them leave my hair feeling crunchy and stiff. This doesn't do that at all. This gel is easy to use and leaves my curls nice and soft. It smells good, lasts a long time, and really does help define my curls. Overall a win for me.
Leave Em......
1)L'oreal Colour Riche Le Balms

I managed to pick a few of these up in the beginning of the summer on a limited edition L'oreal Versailles Romance display that had these and some pastel colored nail polishes on them. I picked up three total Laze In The Maze which is a pink, Legally Regal, and a peach color that I can't find now. Anyway, I hadn't really gotten around to using these this summer but now that it is getting colder I decided to pull them out on the hopes that they were in fact a balm. Womp womp....after a couple weeks of testing these are nothing to cheer about. First off they are almost all completely sheer. They give your lips a bit of shine but there is not real color payoff. When you look at them without swatching them they appear like they are going to be nice creamy opaque shades but none of them are. I also didn't feel like they did anything when it came to moisturizing my lips. They didn't feel any better after wearing these. I also thought the formula was rather greasy feeling and they wore off easily. Seeing as how I spend almost $9 a piece on these I was rather disappointed.
2)Wet N Wild MegaVolume Mascara
I am sure that I am not the only one who has accumulated a good size pile of crap mascaras over the years. I don't know why I continue on the quest of finding good mascaras when I have a few that I love and that work really well. However, every time there is a new "more wonderful mascara that can do everything," that comes out I have to go get it and try it. I often lose more times than I win when it comes to these things but alas I cannot stop. I am always drawn in my the hype, packaging, and glorious promises the companies make. So when Wet N Wild came out with some new mascaras I of course had to pick one up. There are a few of them but this one promised volume and that is what my lashes lack most. Well what a waste!! This did nothing for my lashes. It tinted them that is about it. It clumped my lashes together and smudged throughout the day. It did nothing for curl, volume, or length.
\
Well I think that is it for the month of August. I am excited to drag out my Fall makeup and do some darker lips and nails and things like that. Thank you for reading beauties.